9 April 2013. BAM International has awarded MirTac the contract to (re)organize the documentation and activities related to maintenance, critical equipment, spare parts, quality and safety management into the Star IPS fleet management system. The contract comprises 12 units: the jack-up barge IB-909, 9 work boats, a newbuild crane barge and a newbuild self elevating platform.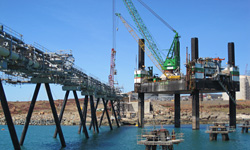 All equipment documentation, purchase and maintenance operations will be translated into procedures, job instructions, maintenance schedules, expiry reports, equipment trees to facilitate onboard processes and enhance operational insight. All relevant information will be readily available to both crew onboard and staff in the office. Star software modules will entail: Maintenance, Purchasing, QHSE, Vessel Administration, Docking. The implementation started last month.
Robert Flink, Managing Director at MirTac, says: 'We are very proud to support BAM International in their daily marine civil construction work. We admire their sophisticated and challenging projects. BAM has proved to be an innovative, knowledgeable partner for so many customers in the world and is an excellent example for the maritime sector in the Netherlands'.
About BAM International
Since its establishment in 1958, BAM International has gained extensive international experience and know-how in the fields of marine, industrial, infrastructure and general building construction in Africa, the Americas, the Middle East / Gulf States and the Asia Pacific region. Typical BAM marine projects include flood defence works, harbours, shipyards, berths and jetties, quay walls and dry docks, breakwaters and land reclamation.