BigLift Shipping
BigLift Shipping, member of the Spliethoff Group, is one of the world's leading heavy lift shipping companies, specialised in worldwide ocean transportation of heavy lift and project cargoes, with a history dating back to 1973. BigLift strives for innovation, excellence and operational reliability, adhering to high Health, Safety, Environment and Quality standards and operating to strict time schedules.
A great variety of heavy and over-sized cargoes for long-standing clients in the oil & gas, mining and power generating industries, is carried worldwide by a modern fleet of 14 specialised heavy lift vessels. In 2018 a third Happy S-type vessel as well as two BigLift MC-Class heavy transport vessels will be added to the fleet.
All the vessels are equipped with their own gear with lifting capacities up to 1,800 mt and some have a ro-ro capability for loads as high as 2,500 mt. A team of dedicated, highly skilled professionals, with years of experience and the mindset to think creatively, enables BigLift to offer innovative and safe solutions for clients' technically and logistically complex requirements. Careful planning, engineering, coordination and supervision to ensure safe transportation are all in a day's work.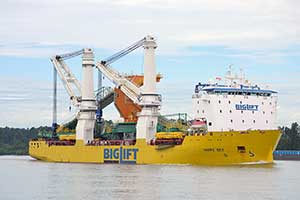 Click to enlarge