Saturday 1st June, the proud Clipper Stad Amsterdam, under the technical management of Harlingen-based JR Shipping, leaves port after a radical six-month refit. It will sail from Flushing to Le Havre, with a mixed company on board. JR Shipping Group's organisation ashore supervises the clipper's efficiency and safety. Usually, JR Ship Management focuses its efforts on state-of-the-art container and freight vessels as well as superfast offshore service catamarans. In a short space of time, though, the shipping company has managed to secure all the knowledge, skills and official documents which are necessary to carry out technical management for this special passenger ship, providing solid quality guarantees.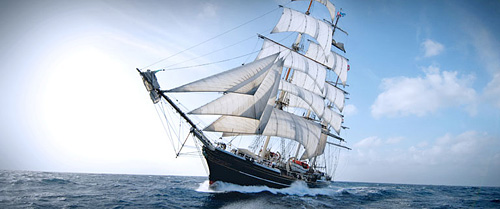 The 'beautiful lady' is ready to make her 'second maiden trip', exactly 13 years after her first voyage. "Her look and feel have remained unaffected", Roland Berendsen reassured the Clipper Stad Amsterdam's numerous admirers. The imposing three-master has been fitted, though, with state-of-the-art devices. Now that she has new installations and facilities and has been painted flawlessly, the Clipper is well-equipped for modern shipping. JR Shipping Group played a significant part in this modernisation, as it has been responsible for the technical management of the sailing vessel since December 2012. This is a historic breakthrough for the shipping company, whose main expertise lies in the field of state-of-the-art container and freight vessels as well as superfast catamaran ships, maintaining shuttle services with offshore wind farms. Technical ship management carried out for third parties, though, fits in well with JR Shipping's diversification policy. The fact that JR Shipping's Founder/Owner, Mr. Jan Reier Arends, has been passionate about Tall Ships during his whole life in shipping makes this a great opportunity.
Passion for Tall Ships
"Our first contacts were initiated as a result of this shared passion", according to Mr. Roland Berendsen of shipping company Clipper Stad Amsterdam, a joint initiative of Randstad Holding NV and the Municipality of Amsterdam. He said: "I got to know Mr. Arends mainly in his stimulating role as Chairman of Stichting Harlingen Sail, which organises the Tall Ships Races Harlingen taking place from 3rd July up to and including 6th July, 2014. When I came to know more about his shipping company, I was impressed by its technical expertise and pragmatic, solution-oriented business operations. This, and Mr. Arends' personal enthusiasm for sail shipping, made it easy for me to start a partnership."
JR Shipping Group's primary responsibility is to enable the Clipper Stad Amsterdam to sail in a safe and efficient manner in any circumstances. During the refit, JR Shipping Group contributed to the implementation of a new information and planning system (Star IPS / MirTac) on board the sailing vessel and trained the crew in the system's relevant operations. The shipping company conducts technical inspections and maintenance operations and takes care of purchasing components, spare parts and fuel. Mr. Harm Mulder, JR Shipping's Operation Manager, has informed us that the shipping company is fully certified in respect of any necessary operations at sea. The certificates which it already has, including QHSE (Quality, Health, Safety, Environment) and ISM/ISPS (International Safety Management and International Ship and Port Facility Security) also apply to sailing vessels such as the Clipper Stad Amsterdam. Specifically for the sake of the Clipper's crew, JR Shipping will shortly be MLC-certified (Maritime Labour Convention), too. These certificates will be compulsory from August this year onwards.
A beloved outsider
Mr. Mulder said: "A sailing vessel such as the Clipper Stad Amsterdam is the odd one out if you look at our fleet comprising container feeders, multipurpose vessels and offshore service catamarans. It is a great challenge, though, to be jointly responsible for such a beautiful vessel. We have been closely involved in its refit, and its trial trip passed off smoothly and pleasantly. Cooperation with the people on board is positive and inspiring. Shipping makes the hearts of all these people beat faster and we exchange lots of knowledge and experiences. It goes without saying that we will be on the quay in Flushing to wave the Clipper and her crew goodbye when they leave port for their second maiden trip."
Mr. Roland Berendsen of shipping company Clipper Stad Amsterdam will also be on the quay in Flushing on Saturday, 1st June. He is very proud of the outcome of the refit carried out by Flushing-based Damen Shiprepair. The three-master, which has been in service since 2000 and was constructed under the supervision of marine architect and former competitive yachtsman Mr. Gerard Dijkstra, who drew his inspiration from four 19th-century clippers, has fully retained its specific historic character. Technically, the sailing vessel is 100% geared to the high quality, environmental and safety demands made on the contemporary maritime shipping industry. "The knowledge that we can fall back on an experienced organisation ashore which knows all the tricks, such as JR Shipping's, gives extra reassurance", said Mr. Berendsen, who is looking forward to working together with the Harlingen shipping group.
More JR Shipping and MirTac:
18 August 2010, http://mirtac.nl/news/jr_shipping_news.html