Jack-Up Barge
Self Elevating Platforms is a well-known supplier when it comes to Jack-Up Barges and is specialized in the manufacturing, sales and rental of standard and modular self-elevating platforms. Additionally SEP offers a wide range of floating and foundation equipment like crane barges, flat top barges, tug boats, anchors, winches, piling templates, hydraulic pile driving hammers, vibrators, crawler cranes and pile driving rigs.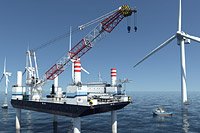 Jack-Up Barge has implemented Star IPS (including last module Vessel Administration) in a fairly short time. With this Vessel Management System, Jack-Up Barge complies with ISM and ISPS regulations, handles purchasing, stores, crew competences and document control, and manages her maintenance organisation.
Download brochure JB-118 (pdf)
Reference Story
MirTac's offshore customer Jack-Up Barge to comply with ISM/ISPS/DOC
April 2010. Jack-Up Barge was recently awarded ISM, ISPS and DOC certificates by ABS. These audits and certificates on International Safety Management, 'Security of Ships and Port Facilities' and Document of Compliance, comprise the office and Jack-Ups JB-114 and JB-115.
Ronald Schukking, Managing Director, at Jack-Up Barge, says "This is a good example of how effort and teamwork can lead to a professional offshore organisation. All employees and suppliers have done an excellent job. We have adopted the right course with the implementation of our Vessel Management System Star IPS.
Both our project team and our suppliers, MirTac, SMT Systems, Alphatron, have successfully translated our processes into practical solutions. With MirTac we have implemented our daily practice including all relevant data into an effective system. ABS even praised us that it is so widely established and used. This ensures a solid basis for future growth."
Jack-Up Barge is a well-known manufacturer and supplier of standard and modular self-elevating platforms for the offshore industry. Jack Up Barge
Click to enlarge