Maintenance Management Supervisor (f/m, fulltime, junior and seniors)
You will be implementing and improving our customer's maintenance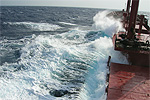 processes with our software solutions, in-house and on customer site. You will:
Collect, understand and translate customers' requirements on maintenance, quality assurance, safety & environmental regulations
Give structured and comprehensive advise on improving customer's Planned Maintenance Performance
Train and coach the project team and train end users
Give Second Line Functional Support to our customers
Juniors, depending on skills, will be trained and coached by a senior supervisor during his/her first year(s).
Qualifications:
Junior: Maritime Education, preferably HBO
Senior: Working experience as a Maritime Officer, Engineer, Superintendent or Supervisor in the shipping industry is required. 
As a pro-active, self-motivated and successful person you are already familiar with Planned Maintenance and related Projects
Understanding of relational databases and planned maintenance systems for the Shipping Industry are a pre. Experience with Personal Computers
Solid communication skills
Fluency in English, both written and verbal.  German and/or French are a pre
Enthusiastic, ambitious and result driven
What do we offer:
Competitive salary
Excellent opportunities for career progression
Comprehensive training
Interesting projects with a variety of customers
A team that is committed to success
Information
For more information regarding the job you can contact Mr. B.Tooten, MD,
tel. +31 (0)162- 406460 or via email, ankie.vantilborgh@mirtac.nl.
Interested?
Please send your application and CV to ankie.vantilborgh@mirtac.nl.