Programmer / Software Developer
You will be developing for our products and services within th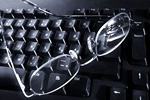 e shipping market. High level of experience on relational databases, SQL, VB, Crystal Reports and ASP. You will be involved in our projects both in-house as well as on customers premises, depending on the customer's requirements. As a pro-active, self-motivated and successful person you will quickly earn the opportunity to participate in our projects on a global market.
You will be reporting directly to the project manager
You will be reporting directly to the Technical Director.
Qualifications:
Experience in the Shipping Industry is preferred
2 to 5 years in an ICT environment
Experienced in RDBMS environment such as Oracle and Sybase
Experienced in SQL, VB, Crystal Reports and ASP
Excellent communication skills
Fluency in English, both written and verbal
Enthusiastic, ambitious and result driven
What do we offer:
Competitive salary
Excellent opportunities for career progression
Comprehensive training will be provided
A team that is committed to success
Information:
For more information regarding the job you can contact Mr. R. Flink, Technical Director, tel. +31 (0)162- 406460 or via email, ankie.vantilborgh@mirtac.nl.
Interested?
Please send your application and CV to ankie.vantilborgh@mirtac.nl.